08.04.08
Nine radical Islamic convicts of the 2003 Casablanca attacks escaped a Moroccan top security jail Monday morning, according to local authorities. The nine men managed to brake out through a tunnel they dug up under their cells. Most of them were serving life imprisonment for their links to the Casablanca bombings - the deadliest terror attack in the country's history.

The attacks, which killed 45 people and injured more than a 100, targeted several places on the night of May 16th 2003, including two local restaurants, Hotel "Farah", a Jewish cemetery and community center, and the Belgian consulate. 12 of the suicide bombers activated the bombs almost simultaneously, while two other bombers were captured before they could carry out their attacks.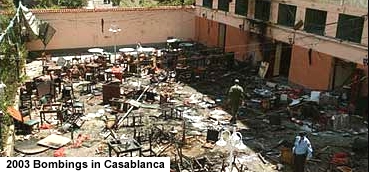 It is believed that the bombers were members of the Salafia Jihadia group, a North African Islamic organization affiliated with Al Qaeda. It appears that GICM (Moroccan Islamic Combatant Group) activists who have been linked to Al Qaeda, probably as a part of its logistical support network, were involved in the planning and directing of the attacks as well.