31.5.09
Abu Ibrahim AKA Husayn al-Umari, a veteran terrorist wanted for numerous attacks during the 1970's and 1980's, has recently moved to Tripoli, Lebanon, according to FBI sources. Abu Ibrahim, 73 years old of Palestinian origin, is an explosives expert who has operated since the early 1980's under Iraqi control and was responsible for several attacks against US and Israeli airplanes.
Abu Ibrahim was originally a PFLP (Popular Front for the Liberation of Palestine) member under the leadership of George Habash. He first split from the front in 1974 as a vocal supporter of the chief operational leader of the organization Wadi'a Hadad. The split resulted from an inner dispute regarding the terror policy of the Palestinian terrorist groups in the early 1970's, specifically the question of continuing terrorist activity in the international arena. Habash's decision to go with the mainstream Palestinian's (Fattah) decision to completely halt operations in the international arena caused that split. The new organization (PFLP-SOG- Popular Front for the Liberation of Palestine- Special Operation Group) continued its operations in the international arena against Jewish, Israeli and Western targets. They even collaborated with other international terror organizations such as the "Japanese Red Army" the German "Badr Minhoff" and more. The most famous operation of this group was the Hijack of Air France flight 136 from Tel Aviv on route to Paris to Entebbe – Uganda in 1976.
PLFP-SOG operated until Hadad's elimination by Israel in late 1978 and following his death the organization split into three factions:
FARL – headed by George Ibrahim Abdullah
PFLP-SC (Special Command) - headed by Salim Abu Salem
15 of May (Israel's date of declaration of independence) Organization- headed by Hussein Al Umari- aka Abu Ibrahim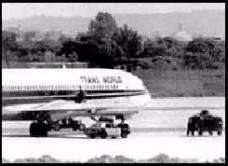 Abu Ibrahim and his new group formed an alliance with the Iraqis who wanted to use Al Umari's expertise and experience in international terrorism to promote various Iraqi interests. Abu Ibrahim specialized in constructing bomb charges operated by changing Barometric pressure for use against commercial airplanes. In the mid 1980's Abu Ibrahim was responsible for two attempts to blow up El Al aircrafts (failed because of technical malfunction ) and a partly successful attempt to Blow up TWA flight 840 over the European continent which resulted in the death of 4 passengers (the aircraft was able to land in one piece). In recent years, Abu Ibrahim refrained from terrorist activities, probably due to his age (73) and was reported to leave peacefully under the protection of Sadam's troops until the American led invasion of Iraq in 2003.
American sources have reported that Abu Ibrahim has been supporting Sunni militants in the last years in Iraq. His reported movement to Lebanon can be attributed to the continuous Counter-Terrorism actions the Coalition Forces have conducted in Mosul area, where Abu Ibrahim operated. In Lebanon, where some of Abu Ibrahim's family reside, he will be capable of improving the knowledge and expertise in bomb-making of the local organizations (Fatah Al-Islam, Usbat Al-Ansar)
Click here to view a map of the various Palestinian secular terror group which operated throughout the years