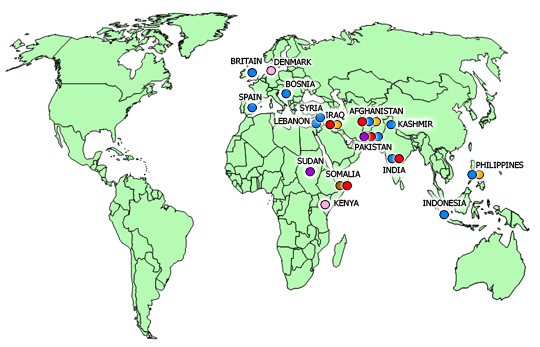 31.10.08 - Pakistan - Pakistani security forces detained a suspected Taliban commander and killed at least 5 other militants during an operation in the country's northwest

31.10.08 - Pakistan - At least 9 people were killed in a suicide attack on a local police station in Mardan, Pakistan
30.10.08 - India - 66 people were killed and more than 470 injured in a series of 13 coordinated blasts in markets and office complexes through north-east India
30.10.08 - Afghanistan - At least 5 people were killed in a suicide attack at an Afghan ministry meeting
29.10.08 - Somalia - 30 people were killed in a series of 5 suicide attacks in Somaliland, when car bombs exploded near the presidential palace, the Ethiopian embassy, UN offices and intelligence facilities. No group has claimed responsibility for the attacks yet, but it seems likely that Shabaab, an Al-Qaeda-linked terror group in Somalia, was behind it.
29.10.08 - Afghanistan - 4 Taliban were killed in fighting with security forces in Bajaur, Afghanistan
29.10.08 - Pakistan - 3 Pakistani soldiers were killed when a suicide car bomb exploded in an army check post in northwest Pakistan
28.10.08 - Syria - Abu Ghadiyain, an Al-Qaeda logistical coordinator in Syria who was the apparent target of the U.S airstrike on Sunday, was apparently captured. Whether he survived is unknown at the time.
28.10.08 - Afghanistan - At least 10 Taliban were killed in a clash with troops in Afghanistan
28.10.08 - Pakistan - 5 suspected militants were killed and several others injured in clashes with the Pakistani security forces
27.10.08 - Afghanistan - 20 militants were killed in a U.S airstrike in south Waziristan
27.10.08 - Afghanistan - A suicide bomber in a police uniform killed 2 Americans after blowing himself up inside a police station in Baghlan, Afghanistan
27.10.08 - Pakistan - 2 people were killed in a car bomb attack in Quetta, Pakistan
27.10.08 - Afghanistan - 20 militants were killed in a U.S airstrike in south Waziristan
26.10.08 - Pakistan/Afghanistan - Pakistani troops killed 11 Taliban militants in clashes in a tribal area on the border with Afghanistan
24.10.08 - Pakistan - 4 suspects were arrested in Pakistan in connection with last month's suicide attack on the Marriott hotel which killed 54 people
24.10.08 - Afghanistan - The U.S.-led NATO force in Afghanistan killed at least 18 Taliban militants in different areas of the country
23.10.08 - Iraq - 11 people were killed and 22 injured when a suicide car bomber rammed into the convoy of Iraq's labor minister
23.10.08 - Afghanistan - A roadside bomb killed 3 coalition soldiers in Afghanistan
23.10.08 - Afghanistan - International and Afghan forces killed 55 militants during clashes in southern Afghanistan
23.10.08 - Pakistan - Pakistani Police arrested 32 suspected foreign militants in northwestern Pakistan
23.10.08 - Pakistan - Pakistani police authorities were instructed to enhance security and inform the relevant embassies on a threat by militants to kidnap high-profile diplomats in the country
22.10.08 - Iraq - 4 civilians were killed in a car bomb explosions in Mosul
22.10.08 - Iraq - Three separate bomb attacks killed at least one person and injured 8 others in Baghdad
22.10.08 - Afghanistan - About 35 Taliban militants and 3 police men were killed in clashes in southern Afghanistan
21.10.08 - Indonesia - Bomb-making materials and weapons were seized from a house in Indonesia's capital Jakarta
21.10.08 - Britain - 5 men were arrested in the UK on suspicion of committing terrorist offences
21.10.08 - Afghanistan - 2 NATO soldiers were killed in a suicide bombing in northern Afghanistan
20.10.08 - Pakistan - More than 20 Taliban fighters were killed in an air raid in Pakistan's Northern Swat Valley
20.10.08 - Iraq - 4 people were killed when two bombs struck a bus and a taxi in eastern Baghdad
20.10.08 - Afghanistan - 34 Taliban militants were killed in an operation by Afghan and foreign forces in southern Afghanistan
19.10.08 - Afghanistan - 30 bus passengers were killed by Taliban militants on Afghanistan's main highway
19.10.08 - Pakistan - 4 people were killed and 3 seriously injured in a remote control bomb explosion in Balochistan district of Dera Bugti, Pakistan
19.10.08 - Iraq - Two roadside bombs in southern Baghdad killed at least 2 people and wounded 17
19.10.08 - Pakistan - 27 militants were killed in a Pakistani air strike near the Afghan border
18.10.08 - Afghanistan - 5 NATO soldiers were killed in a suicide car bomb attack near the western Afghan city of Herat
18.10.08 - Pakistan/Afghanistan - 60 Taliban militants were killed in an air strike of the Pakistani army
17.10.08 - Iraq - Two female would-be suicide bombers were arrested in Diyala, Iraq
16.10.08 - Pakistan - 6 militants were killed in a U.S air strike in Pakistan's tribal areas
16.10.08 - Spain - Spanish police arrested 13 Moroccan men suspected of harboring Islamic extremists and helping them flee the country
16.10.08 - Philippines - 13 MILF militants were killed in a a two- day military offensive on the southern Philippines island of Mindanao
16.10.08 - Pakistan - 4 security officials were killed and 26 wounded in an attack on a police station in Swat, Pakistan
15.10.08 - Kenya - Somali Islamic movement Shebaab al-Mujahideen has threatened to carry out attacks in Kenya if the Kibaki administration does not stop helping the Transitional Federal Government (TFG) of Somalia
15.10.08 - Iraq - The U.S military issued a statement confirming the death of Abu Qaswarah AKA Abu Sara, one of the senior figures of Al-Qaeda in Iraq
15.10.08 - Afghanistan - At least 70 Taliban fighters were killed during an air strike near the Pakistani border
15.10.08 - Afghanistan - 18 Taliban militants were killed after fierce gunbattles in the city of Lashkar Gah in southern Afghanistan
14.10.08 - Afghanistan - 3 NATO soldiers were killed when their vehicle was struck by a roadside bomb in eastern Afghanistan
14.10.08 - Afghanistan - 9 civilians were killed in a bomb explosion on a small bus in Afghanistan
14.10.08 - Pakistan - 9 Taliban militants were killed in an ongoing military operation by Pakistani forces near the Afghan border
14.10.08 - Pakistan - At least 43 militants were killed in fighting near the Afghan border, according to Pakistani security forces
14.10.08 - India - Indian security forces killed a senior commander of Hizb-ul-Mujaheedin
14.10.08 - Somalia / Denmark - A new video reveals the existence of a training camp in Somalia run by the Islamic movement Shebaab al-Mujahideen, with possible links to Al-Qaeda. Among the recruits, there are Western activists and one of them threatened to hit Denmark following the cartoon controversy
13.10.08 - Iraq - 5 people were wounded from a roadside bomb which aimed an Iraqi police patrol in northeastern Baghdad
13.10.08 - Pakistan - Pakistani forces killed 25 Al-Qaeda-linked militants in the Afghan border
13.10.08 - Afghanistan - Afghan and coalition troops killed 14 Taliban militants in two joint operations
13.10.08 - Afghanistan - 6 civilians were killed and 2 more wounded when their minibus hit a roadside bomb in Zana Khan district in Afghanistan
13.10.08 - Afghanistan - 2 civilians were killed and 3 injured when a rocket aimed at a foreign troop hit their home in Khost, Afghanistan
13.10.08 - Lebanon - Lebanese authorities dismantled a terror cell suspected to be behind the recent attacks in Tripoli which killed 4 soldiers and 3 civilians
12.10.08 - Pakistan - Pakistani forces killed 35 Taliban militants near the Afghan border
12.10.08 - Iraq - 6 people were killed and dozens wounded in two suicide car bomb attacks in Mosul
12.10.08 - Iraq - 7 people were killed in a car bomb attack in Baghdad
12.10.08 - Afghanistan - More than 100 Taliban militants were killed in Afghan clashes
12.10.08 - Philippines - 8 Philippine soldiers were injured in intense fighting with MILF militants

12.10.08 - Pakistan - Pakistani authorities arrested 14 suspects planning a suicide attack
11.10.08 - Sudan - The U.S issued a terror warning for Sudan, where a group called "Al-Qaeda in the Land of the Two Niles" has threatened its citizens and its allies
11.10.08 - Afghanistan - U.S. led coalition and Afghan troops killed 9 militants in clashes in southern and central Afghanistan
11.10.08 - Pakistan - Up to 50 people were killed in a suicide bombing during a traditional gathering of tribal elders in Pakistan
10.10.08 - Iraq - 13 people were killed and 27 injured in a car bomb explosion in a Baghdad market
10.10.08 - Pakistan - A U.S. missile strike killed 9 people, 6 of them militants, while missing most of the Al-Qaeda and Taliban participants of a meeting held at the place
10.10.08 - Pakistan - 10 people were killed and more than 50 wounded in a suicide bomb attack in a tribal region of Pakistan near the Afghan border
09.10.08 - Kashmir - A senior Jaish-e-Mohammad (JEM) militant was among two terrorists who were killed by Army forces in Jammu and Kashmir
09.10.08 - Pakistan - A suicide car bomb near a police complex in Islamabad and a roadside bomb in the Dir region left 10 people dead and 14 injured in Pakistan
09.10.08 - Iraq - Iraqi Sunni militia leader working with the US forces was killed in a roadside blast along with 3 family members north of Baghdad
09.10.08 - Pakistan - At least 20 Al-Qaeda-linked militants, eight of them foreigners, were killed in a Pakistani air strike near the Afghan border
08.10.08 - Iraq - A female suicide bomber detonated a bomb in a city northeast of Baghdad, killing 11 people and wounding 19
08.10.08 - Afghanistan - Nearly 60 Taliban militant were killed in clashes with U.S.-led coalition and Afghan security forces

07.10.08 - Bosnia - Syrian national Imad-al-Husini arrested in Bosnia
07.10.08 - Iraq - A U.S. soldier and an Iraqi policeman were killed during a gunbattle with a suspected Al-Qaeda militant in Mosul, Iraq
07.10.08 - Iraq - Two blasts struck outside Iraq's Foreign Ministry
07.10.08 - Afghanistan - Afghan and US-led coalition forces killed 43 suspected Taliban militants
07.10.08 - Kashmir - 4 militants were arrested near Kashmir, including one Lashkar-e-Toiba (LET) activist
07.10.08 - Kashmir - A Harkat-ul-Mujahideen (HUM) militant was killed and another one arrested in Kashmir
07.10.08 - India - Indian police arrested 15 suspects, including 3 Indian Mujahideen members, who were planning an attack in Mumbai
06.10.08 - Pakistan - Lashkar-e-Jhangvi (LEJ) is suspected to be behind a suicide attack on a Pakistani opposition politician's home which killed at least 17 people
06.10.08 - Afghanistan - The Afghan army and coalition forces killed 11 Taliban militants
06.10.08 - Iraq - Coalition forces captured 10 suspected terrorists in northern and central Iraq