25.07.08
During a rare interview with Pakistani TV station, Mustafa Ahmed Muhammad Uthman Abu al-Yazid AKA Sheikh Saeed, claimed responsibility for the attack of the Danish embassy in Islamabad last month, where 8 Pakistani Muslims were killed.
In recent years, especially following the activity of Abu Musab al-Zarqawi in Iraq and Jordan, Al-Qaeda has suffered from a sharp decline in its legitimacy and support within the Muslim world due to its indiscriminating activity which claimed the lives of many innocent Muslims. It is important to notice with this regard that Sheikh Saeed addressed this issue with an apologetic approach, falsely claiming that "it is wrong to say innocent people were killed in the incident as we had ensured that no collateral damage takes place".
More than that, we believe the operational characteristics of the Danish embassy attack might be an indication of a certain decline in the operational capabilities of Al-Qaeda in carrying out large-scale attacks in the west.
Al-Qaeda has put Danish facilities at the top of its "hit list" more than two years ago following the publication of caricatures which committed blasphemy against Prophet Mohammad in a Danish newspaper. The organization's top seniors threatened to take revenge by carrying out a large-scale attack that will hit the Danish people. In order to achieve that goal, Al-Qaeda used to be known for its long and thorough planning, considering various factors that will guarantee as many casualties as possible in the attack. Al-Qaeda used to operate that way in the west, using local activists who are familiar with the area and do not draw much attention, and choosing "soft targets" (i.e.- unguarded targets) in order to ensure "good results" – as many casualties as possible.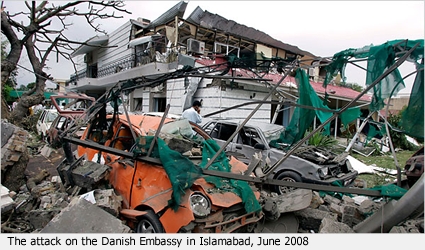 In this case, Al-Qaeda chose to divert from some very important characteristics of its modus operandi and combat doctrine. The attack was conducted on Pakistani soil, executed by a Saudi citizen, and most importantly - aimed at a hard-fenced and shielded target, which ended up proving its efficiency as there were no Danish national casualties in the attack.
It is our assessment that this shift in the characteristics of its Modus Operandi might suggest a decline in the operational capabilities of the organization in the international arena. Al-Qaeda's special operations unit, which is responsible for all external operations, has suffered from growing difficulties to operate in the west and gradual reduce of its freedom of activity following the September 11th attacks. In fact, the last successful attack carried out by this unit was conducted more than three years ago in the London transportation system on July 7th 2005 which claimed the lives of 52 British citizens.
In recent years, this unit also suffered from arrests, eliminations and death of its most senior commanders (lately the head of this unit Abu-Ubeida al-Masri was reported dead due to natural causes) which probably had a great effect on its operational performances and capabilities. We believe that this is what lead to the changed made in its Modus operandi, as well as the poor results of the promised revenge against the Danish people.
One should remember though, that even if our assessment is correct and Al-Qaeda is experiencing some operational difficulties in carrying out attacks in the west , this latest decline is probably only temporary and its duration can not be assessed. At any rate, we believe that Al-Qaeda will continue to search for large-scale operational activities in the west and look for ways to regain its operational capabilities. One should remember with this regard that Al-Qaeda used to get back to the "crime scene" and execute attacks in areas where previous attacks already took place. This was the case with the WTC attack, the attacks in Kenya, and even the attack in London was some kind of a reattempt of a plot that was dismantled by British forces a year earlier.